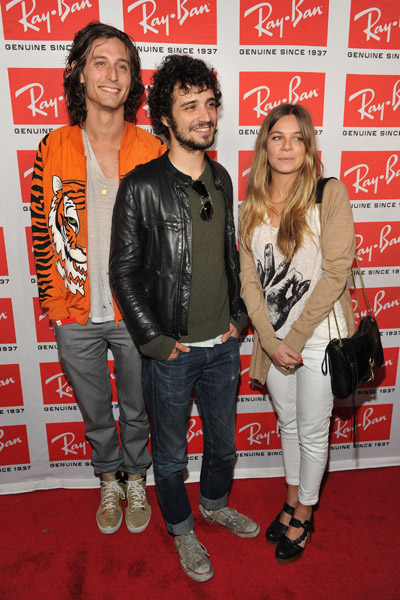 British publication The Observer published only the second piece about The (new) Strokes where the entire band is interviewed.
The story, authored by a lady named Hermoine (!) Hoby, revealed a couple of interesting things about The Strokes. Without further ado, let's just get to the excerpts.
Nick Valensi on why The Strokes were so successful in 2001…
"We were just kids who had fairly decent taste in music," shrugs guitarist Nick Valensi, with a trademarked wide-eyed gaze. "And we were curious why no one made music like that any more, so that's what we did. It turned out that a lot of people had been wondering the same thing."
Now that's a little modest, of course. But Nick wasn't done there.
Albert for his part seems genuinely surprised [about the website crashing when UCoD is released]. As does Nick, when I talk to him and bassist Nikolai Fraiture. "I still wonder why people make such a big deal about us," he says. "I listen to our records and I think: that's good, there's a couple of things that could be better. But to make the fuss that people do, especially in the UK… I'll be honest, I still don't get it. I dunno what it is… the gods of rock'n'roll are smiling upon us." Neither of them say anything for a moment. And then: "God, I really wish I hadn't said that."
As many of these pieces are sure to do, the relationship between Julian and the other four members is examined rather thoroughly.
As the photos are being taken he hangs around awkwardly on the edge of the group, hands in pockets, like a teenager enduring a family photo at Christmas. He's facetious, yes (when I ask about regrets he sighs, "So many dead prostitutes"), but he's also as smart as he is silly and surprisingly eager to please. When later Gentles comes over to warn "one more question", Julian, like an excitable kid, bargains: "Three more! Two more?"

Perhaps the past few years have mellowed him. He, Nick and Nikolai are now all fathers and that, says Nikolai, "puts the important things in perspective – all the Spinal Tap bullshit goes out the window". There was, by all accounts, quite a lot of that. Theirs seems to conform to that crude rock'n'roll narrative: fame, followed by too much booze and drugs, followed by near-dissolution.
Finally, something that many pieces have touched on but haven't really out-and-out addressed is Albert's reported rehab stint during the making of this record. Albert was allegedly forced into a rehab facility by the other four members of The Strokes. Fast forward to more than a year, Albert seems genuinely happy that he's sober and can adequetly appreciate what The Strokes have created with Angles.
I was never much of a drinker," says Albert, "for me it was drugs." What he says next is a little cryptic, but he seems like a man struggling to express a new-found joy at being clean. "For me it's… I can't believe I didn't see it this way before. It's so hard to say the right words without it coming across cheesy or self-help. It's all so new. All the words are coming back to my brain. When you're fucked up you're just covering something else up you know? I feel like I've never played guitar better. I've never actually been better at, like… just being happy because of what I'm accomplishing."